---
Company History
Stephen Penley apprenticed as a Dental Technician in London Ontario in 1968.He became a registered Dental Technician in Toronto Ontario in 1973. H is first job as a Dental Technician was in the London Dental Laboratory, in Ontario from 1968 to 1975. He operated his first Dental Laboratory from 1976 to 1984 in London Ontario called, Huron Dental Laboratory. He then became the manager of the Denture department for Rosso Elder Dental Laboratory in Vancouver B.C. from 1987 to 1990. His first position in Nanaimo B.C. was from 1990 to 1992 as the manager of the Denture Department in Teuscheler Dental Laboratory. He has operated his own Dental Laboratory in Nanaimo B.C. since September 1992 and is still booming in the business today.
---
Our Mission
The mission of this company is to provide goods and services to meet the consumers needs.
---
Company Profile
Stephen Penley's Educational background begins in 1976 were he completed a course in the University of Detroit in Detroit Michigan called " Porcelain Fused to Gold Restorations" his other learned courses are "Resin Bonded Acid etched Bridges" this course was presented by a professor of the University of Maryland, Dr. Gus Lividitus at the University of Pittsburgh in 1981. As well as the Technical course Brademark Implants, in the Vancouver Vocational Institute in 1992.
Stephen Penley Dental Laboratory specializes in removable dental prostheses, including all types of full dentures, cast partial dentures, attachment cases, implant supported full arch reconstruction, acrylic partials and orthodontic appliances.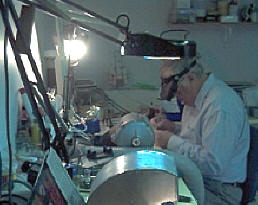 The Working Lab.
---
Contact Information
For further information and or to contact Stephen Penley R.D.T. please contact him at the office via the e-mail contact and he will return your email or request for a meeting.
Telephone

(250)-729-0665

FAX

(250)-729-0665

Postal address

2192 Lark Cresent Nanaim B.C. V9S 5J8

Electronic mail

All information: Stephen Penley Dental Laboratory

Webmaster: Rene14@island.net